Bringing Your Basement into the 21st Century
It's easy to get lost in the idea having a finished basement and that's why some homeowners tend to throw up some drywall, lay some flooring, toss some furniture down there, and call it a day. That's not our style. At Premier Construction, we want you to be able to envision what the space will be even before we start construction. Your finished basement can serve your family in so many ways. Take a look at what we could do for you and remember, even if you don't see a finished basement featured here that you think would work for your home, we can design something for you!
Lower Level Music Room
If you're a music lover, but don't want to bother the neighbors, a custom finished basement might be the answer. The owner of this home in Waukee is a musician who wanted their finished basement to reflect that. There's always room to add extra personality when the room is a custom design. In the instance of this design, the bar was made to mimic the shape of a grand piano.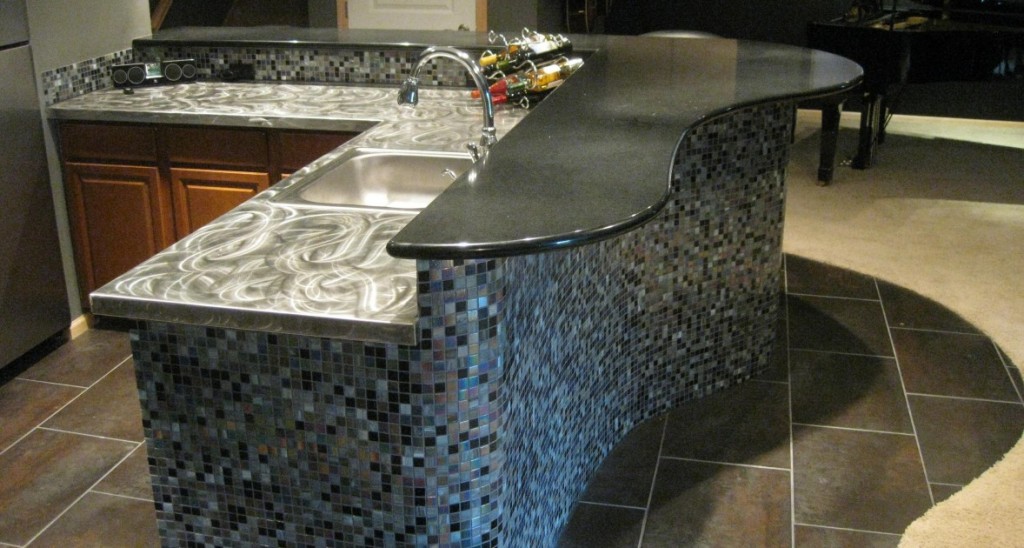 Basement Home Theater and Kitchen
Basements don't have to be cold. It's not all about concrete floors and cinder block walls. A finished basement shouldn't look like it's completely disconnected from the upper level. Furthermore, dark, warm wood tones can absolutely be used in a basement setting. With your very own basement theater, a trip to the cinema is just a few steps away. This is truly a movie buff's dream.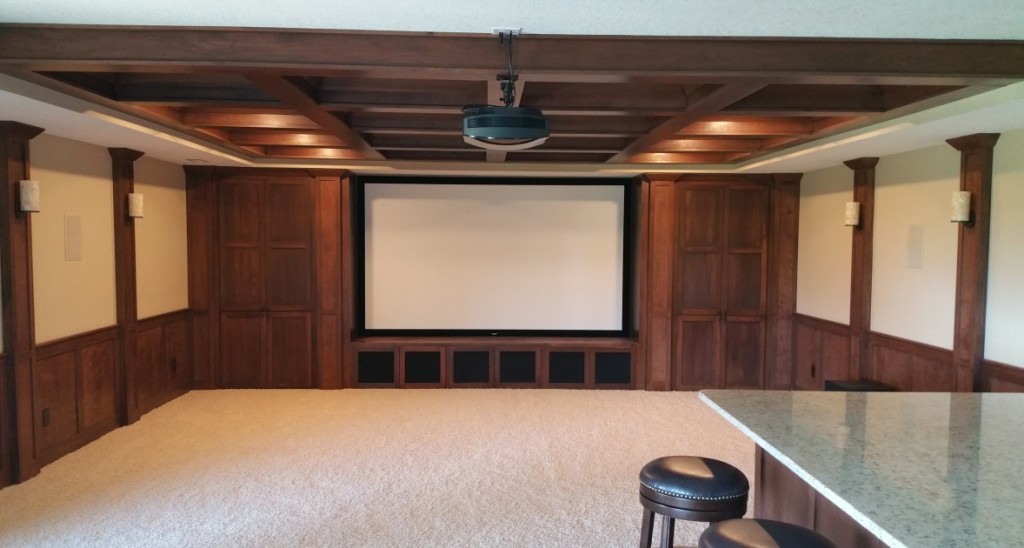 When the owner of this home in Grimes, Iowa contacted us about a full basement design, we jumped at the chance to bring the elegance from the top level into the lower level. This included custom wainscoting and built-ins. The gorgeous full-sized kitchen features a bar where friends and family can belly up and watch the game or a favorite movie.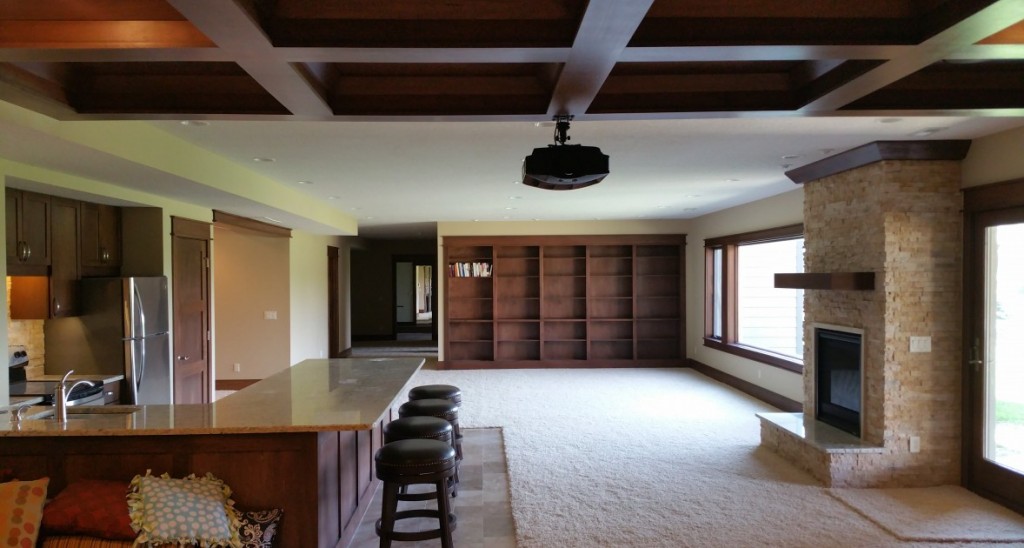 Lower Level Bar
Placing bars on the lower level is an excellent way to utilize the extra space. Why go out for a cocktail when you can have your very own happy hour whenever you'd like in your very own home? Friends and family can gather 'round this killer bar in this West Des Moines basement for a cocktail while they catch the game.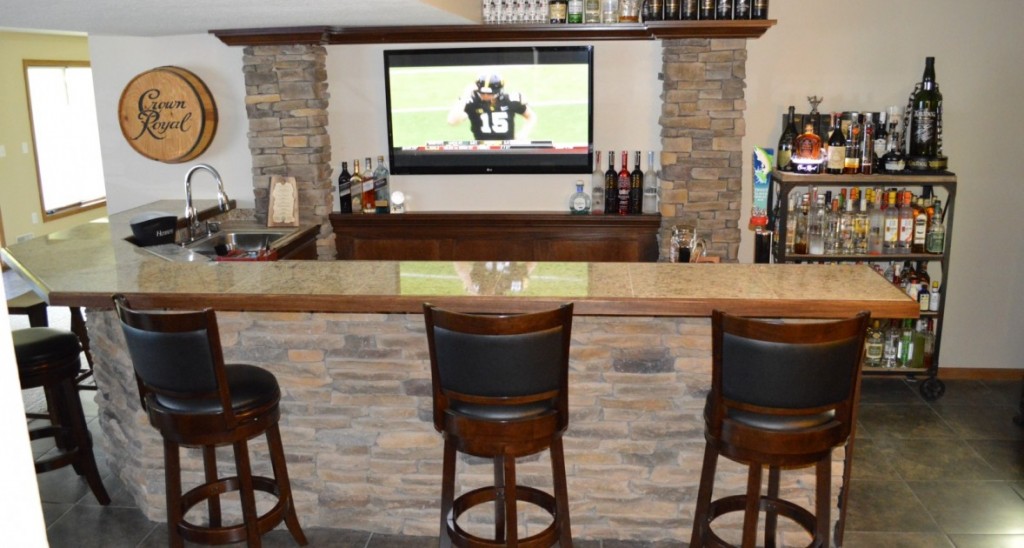 Workout Space
With a fully-stocked kitchen and bar around, it's a good idea to have a workout space in your basement. By simply defining a space as a designated exercise room, it's much easier to get in the mood to actually exercise. Stop doing yoga in your living room and head to your yoga studio, as these West Des Moines homeowners do. You'll notice a putting green is included as well, because it's important to play a little, too!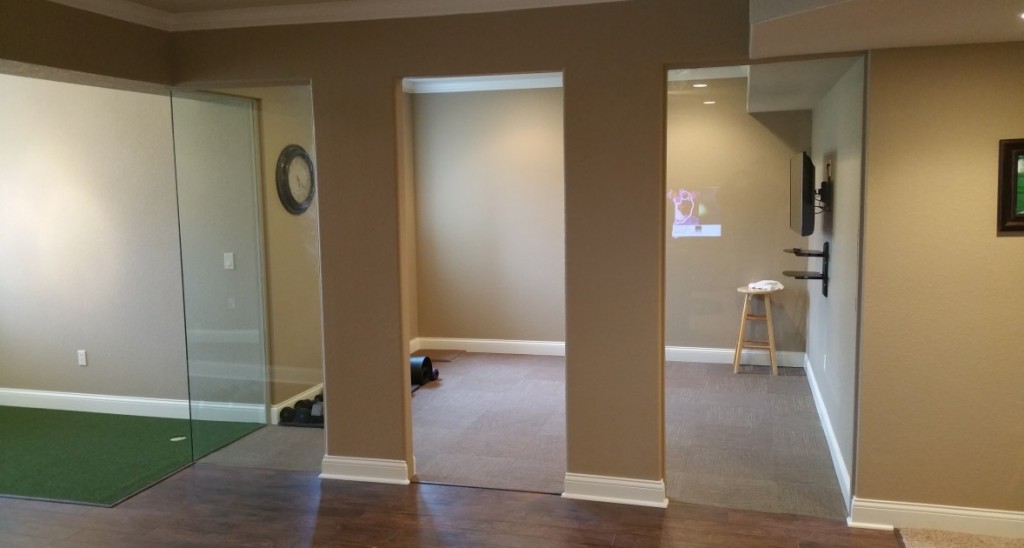 A finished basement should be an extension of your home—not just a place to store things you no longer use, like old furniture and dusty boxes of gifts you received, but didn't like. Give us a call. Let's see what we can design together!